Couple strikes Gold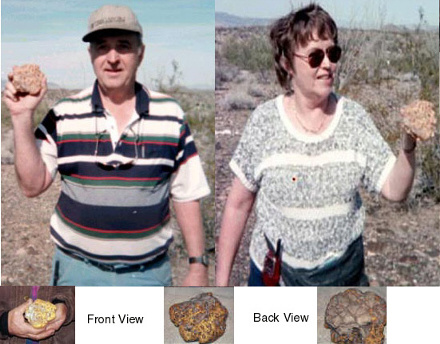 This is the Club Record Gold Nugget found on our claims by Mr.& Mrs Don Doran
From the York-Times-News in Nebraska
OMAHA — Don and Marlene Doran's friends often teased them about their hobby of searching for unique rocks.
But after the retired couple found a 47-ounce nugget containing an estimated 29 ounces of gold in Arizona last month, they're taking them seriously.
"It was a big joke about us tromping around in the desert trying to find gold, but this little rock has changed everyone's attitude," Don Doran said Thursday.
The nugget has been appraised as being worth between $12,000 and $20,000, Doran said.
"A piece of gold that size is unheard of," said Sue Sallee, a member of the Havasu Gold Seekers Club. The club owns claims on the Bureau of Land Management acreage near Lake Havasu City, Ariz., where the nugget was found with the use of a metal detector.